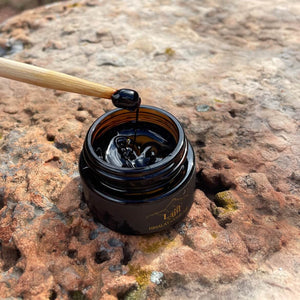 Shilajit is a remarkable herbo-mineral resin that oozes out of high altitude mountains around the world. Known as the Destroyer of Weakness, Shilajit resin is considered the most potent Rasayana in all of Ayurvedic Medicine. It's health and performance benefits make it a sought after tonic by men and women worldwide.
Where's Shilajit from?
First discovered in the Himalayas, shilajit has been found in high altitude mountain ranges all over the world. The sticky mineral resin is the result of ancient plants decomposing over centuries and becoming microbial metabolites, like fulvic acid and DBP's. We work exclusively with Sherpas that are the direct descendants of the mountain tribes that have sourced and purified shilajit for generations.
Learn more
What will Shilajit do for you?
A powerful tonic proven to harmonize your hormones, restore your microbiome, enhance your cognition, and revitalize your essence with its anti-aging properties. Many people report feeling refreshed and energized immediately after consuming it. Just dissolve a pea size portion into your morning coffee, tea or water and feel the restorative power of Lajit.
Get Lajit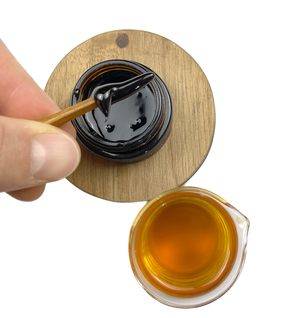 Lajit shilajit is authentic gold grade shilajit resin. Every batch is packaged in a cGMP facility based in the United States. All of our Shilajit is tested at a third party accredited lab for safety and purity.
"Mountain biking for 20+ years has put a lot of stress on my body. Lajit is part of my daily routine now because of how resilient I feel after taking it. I usually just stir it in my coffee in the morning and I feel great within minutes. Definitely going to be ordering more soon, this stuff is Lajit!"
Sadhu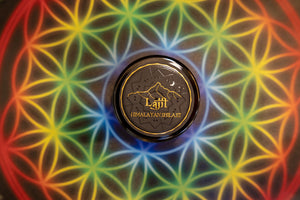 Lajit Gold
With Lajit Gold, you embark on a transformative journey where single-origin, Sherpa-sourced, gold-grade Shilajit is just the beginning. We extend our commitment to wellness through a dedication to purity and sustainability in every product we offer. Our intention is clear: to empower individuals so they can, in turn, change their world for the better. Join us in this holistic adventure, where wellness is a lifestyle, empowerment is a mission, and your journey is the destination.
Get Lajit